ESG
We shall fulfill our commitment and responsibility to environment, society, and all stakeholders
Commitment and Declarations



In the electric vehicle market, a fast-growing green energy industry, Amulaire has established "a global sustainable development driver" as the corporate vision,
to regard environmental protection and social care as our compulsory duty. Meanwhile, combining the business philosophy of "sharing, discipline, open-mindedness,
participation, growth", we are willing to work with all stakeholders to fulfill our corporate social responsibilities.

Sustainable governance structure



From 2021, in response to the company's internal sustainability program advocation, Amulaire has established the ESG office to formulate sustainability policies and various plans. Meanwhile,
CEO will be the top management representative to supervise the progress, and assign trainers from each department to execute and advocate internally together for sustainable
development of the enterprise.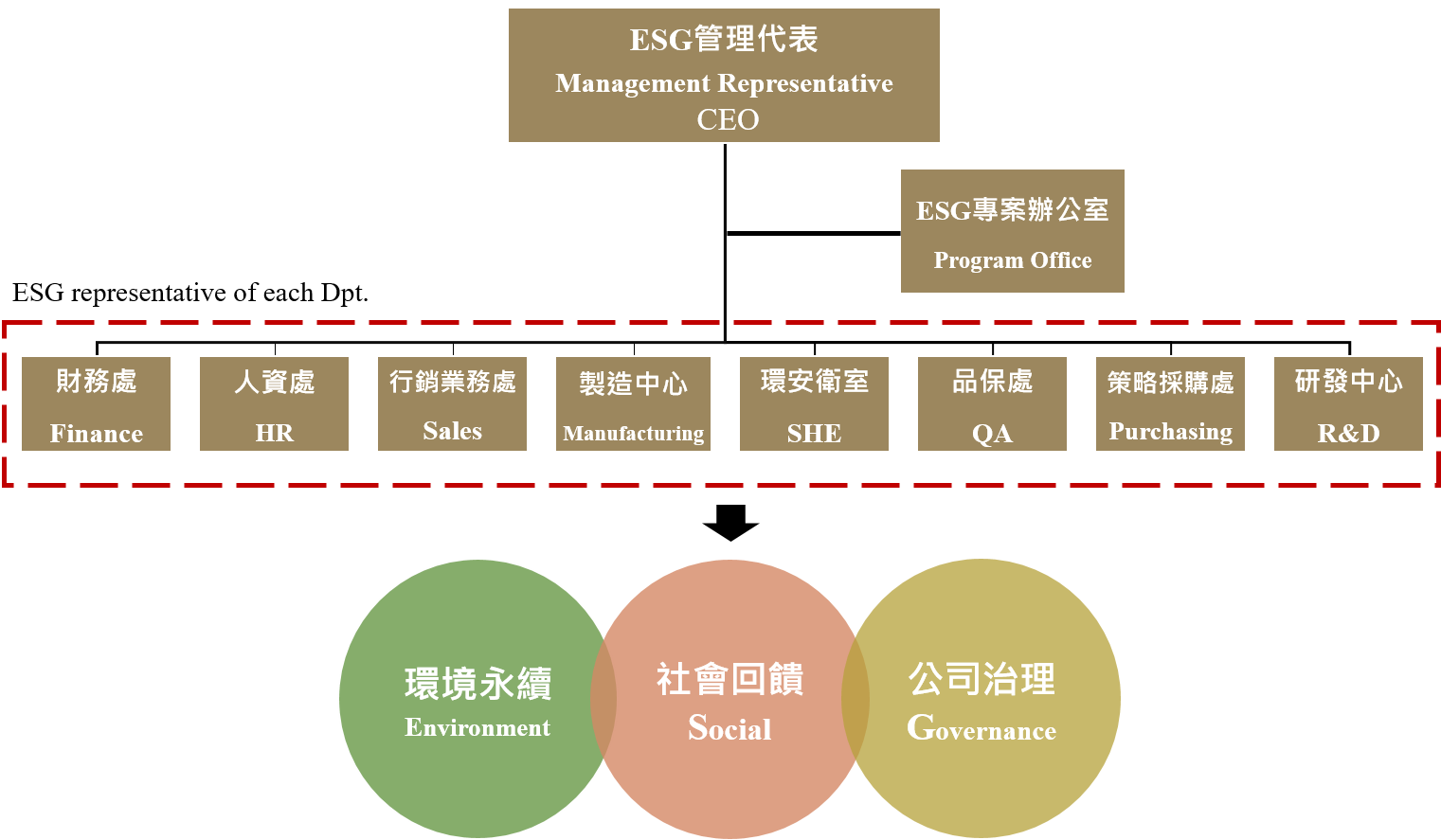 Development of Sustainable Environment
Environmental Policy
Amulaire takes responsibility and is committed to protecting the environment of the earth. Our environmental policy includes regulation compliance, pollution prevention and continuous improvement to minimize the adverse impact of its products, operations and services on the environment. Besides, we have been implementing on waste reduction, recycling, and resource conservation program through continuous employee training for a better living environment.
With the buildup of our ISO14001 compliant system, we have realized our commitment to society – sustainable development – to foster the internal culture of the coexistence of corporate growth and environment.
Source Management
In terms of process and raw material management, Amulaire complies with "source management" and ask our suppliers to conduct self-inspections and sign the supplier's declaration of environmental protection with the aim of promoting our corporate social responsibilities with joint efforts. If any action taken by the supplier disagrees with the said declaration during our term of transaction, we will immediately terminate our transaction with them.
Conflict Minerals Statement
As a global corporate, Amulaire supports and complys with the regulations of RMI (Responsible Mineral Initiative) by not purchasing conflicts minerals especially the 3TG minerals from Republic of the Congo and adjacent areas, which are produced under the army forcing or persecution circumstances. Amulaire is using the CMRT (Conflict Minerals Reporting Template) by RMI to take due diligence within the supply chain to assure 3TG conflict-free. The requirements for our suppliers are as below :
All suppliers should be possessed the ability of environment protection and taking social responsibilities.

All suppliers should ensure the raw material of products are not derived from Republic of the Congo and adjacent areas.

All suppliers should notify and send Amulaire's requirements to the sub-suppliers.

Social Engagement
To adhere to the social power of mutual benefit and assistance, Amulaire upholds the spirit of "what been taken from the society shall be used for the society" and commits to its corporate social responsibilities. In doing so, we have been actively promoting charitable activities through monetary and in-kind donations, showing our care for disadvantaged groups, and organizing activities, such as the "Love & Dream in Christmas Program".
Collaboration between Industry and School
Since 2015, we have been providing the off-campus intern program to the students of Lee-Ming Institute of Technology, Ming-Chi University of Technology, and National United University. During the internship, they will be able to apply what they have learned in school in actual work and quickly master their expertise, thus becoming the industrial talents needed by society.
Education Sustainability
Be one of the sponsors for the Elite EMBA Alumni Scholar Lecture under NTU's College of Management for Taiwan's education sector to employ or retain excellent young scholars and boost the level of our academic research and education

Since 2014, ATT has donated over NT5 million for Hualien Qinghan Scholarship, benefiting nearly 5,000 primary and middle school students in Hualien.

Cooperate with the "mama team up in small villages" in Yuli and Zhuoxi areas to support the local school's cultural activities, educational development, and emergency relief funds.
Caring for the disadvantaged
Specially establish a volunteer leave system to encourage employees to roll up their sleeves and participate in public welfare activities, hoping to expand the chain of kindness in society.

Participate in many activities such as Charity Sale, Love Garden Party, Kindergarten Cleaning Volunteer, and other activities to accompany the children in the orphanage.

Assist in the promotion of pomelo and rice in rural areas. ATT helps children in rural areas not to limit their learning opportunities due to their background through donating part of earnings with local farmer's association.

Implementation of Corporate Governance

We have established the "Code of Corporate Social Responsibility Practice"
Corporate social responsibility has become a part of our corporate governance. Policies on salary and bonus are institutionalized.
Strict Compliance with Labor Regulations
Employees are our biggest assets. We take care of employee seriously by strictly complying with the requirements set by labor regulations. For sustainable business operation, ATT not only holds regular employee health examination, labor safety class and fire drill but also sets up the systematical education and training course to enhance the leadership and functional development of employees. Moreover, We have established internal communication channels and diverse employee relationship projects to create a "happy, growing, healthy and balanced" work environment for our employees.
Stakeholder Communication
Our stakeholders include employee, customer, supplier, investor, community and government agencies. On the basis of upholding good communication between our stakeholders and the company as well as working hard to improve stakeholders' engagement, Amulaire has been able to gain an adequate understanding of their views and needs.

Employees
On top of a series of care activities and benefits, such as new employee care dinner parties, new employee counselor systems, staff travel, health examinations, staff games, year-end banquets, Mid-Autumn Festival banquets and so on, we also set up an employee complaint channel and proposal rewards, i.e. the quick response system for employee feedbacks.

Customers
In addition to the product liability insurance maintained for customer rights, we have also established the "Customer Service Management Procedure" to provide after-sales service, product support and complaint response in an institutionalized way.

Suppliers
We assist our suppliers in building a quality control system that conforms to company requirements and fulfilling our joint corporate social responsibilities in order to develop a sustainable environment.

Investors
Along with the enhancement of corporate governance and introduction of independent directors, audit committee and remuneration committee, we also include third party independent experts to improve the quality of the decisions made by the governance unit. The disclosure of company information, including monthly revenue announcement, quarterly profit and loss statement and quarterly investor conference, is improved in order for our investors to receive company information properly and appropriately.

Community
We maintain a good public environment, manage neighborhood relationships and participate in community public activities.

Government
We abide by laws and regulations and provide the opportunity of career re-learning and adaptation in our cooperation with government's employment service program in response to the promotion of government policies.